Trustees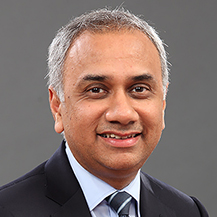 Salil Parekh
Salil Parekh is the Chairman of Infosys Foundation.
In his primary role as Chief Executive Officer and Managing Director, Salil sets and evolves the strategic direction for the company and its portfolio of offerings, while nurturing a strong leadership team to drive its execution. Salil has nearly three decades of global experience in the IT services industry with a strong track record of driving digital transformation for enterprises, executing business turnarounds and managing successful acquisitions. He is a member of the National Council of the Confederation of Indian Industry (CII).
Earlier, Salil was a member of the Group Executive Board at Capgemini, where he held several leadership positions for 25 years. He was responsible for overseeing a business cluster comprising Application Services (North America, UK, Asia), Cloud Infrastructure Services, and Sogeti (Technology & Engineering Services Division). He was responsible for the strategy and execution of these businesses - setting direction and enabling rapid client adoption. He was also the Chairman of Capgemini's North America Executive Council. He was the architect of the North America growth and turnaround strategy, and was instrumental in setting up their offshoring capabilities.
Salil was also Partner at Ernst & Young and widely credited for bringing scale and value to the Indian operations of the consultancy firm.
He holds Master of Engineering degrees in Computer Science and Mechanical Engineering from Cornell University, and a Bachelor of Technology degree in Aeronautical Engineering from the Indian Institute of Technology, Bombay.
---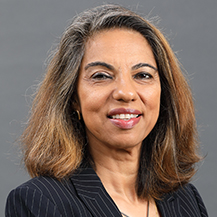 Inderpreet Sawhney
Inderpreet is the Group General Counsel and the Chief Compliance Officer of Infosys. In this role she leads the legal and compliance function for the Company. She is a strategic business partner ensuring success for Infosys in legal and regulatory matters, while spearheading its compliance and ethics program. Inderpreet also has additional responsibility for Privacy and Data Protection at Infosys.
Inderpreet is a seasoned professional with over 25 years of experience, including as General Counsel of a large IT services company, and as Managing Partner of a mid-sized law firm in Silicon Valley. She serves on the Board of Directors of NYSE listed Hillenbrand Inc. and is a member of the National Advisory Council of SABANA (South Asian Bar Association of North America).
She was an honoree at the 2017 Transformative Leadership Awards, recognizing General Counsel who demonstrate commitment to advancing women in law. She is also a recipient of the Thought Leadership Award at the 2018 Global Transformative Leadership Awards and was featured among the top 25 Women Leaders in IT Services of 2020, published by The IT Services Report.
She is a frequent speaker at global conferences.
Inderpreet has a BA (Hons.) and LL.B. degree from Delhi University and an LL.M. from Queen's University, Kingston, Canada.
---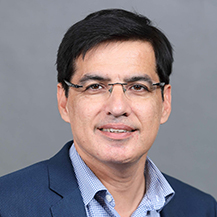 Sumit Virmani
Sumit is Trustee, Infosys Foundation.
Sumit currently heads marketing at Infosys and is responsible for realizing Infosys' brand ambitions globally. A transformative marketing leader, Sumit has significant experience shaping the brand narrative and experience across geographies. He joined Infosys in 2004 and has since held multiple strategic positions including head of Infosys products & platforms marketing as well as the global head of corporate marketing. He champions marketing effectiveness and enjoys the challenge of building strong connects between marketing metrics and business outcomes. Sumit comes with over 20 years of experience in international marketing. Prior to joining Infosys, he has worked with Polaris Software and the Tata Group where he acquired his specialist skills in brand development, marketing communications and demand generation.
Forbes has ranked Sumit among the top 50 most influential CMOs in 2023. He is on the steering committees of The Drum, International Academy of Digital Arts and Sciences and the Association of National Advertisers. Sumit also serves on the Board of WongDoody – Infosys' experience design company.
---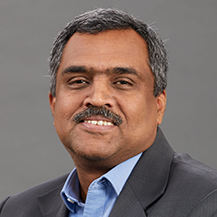 Sunil Kumar Dhareshwar
Sunil Kumar Dhareshwar is currently Executive Vice President, Finance at Infosys Ltd. He is responsible for Global Taxation, Corporate Accounting, Treasury and financial aspects for M&A transactions. Sunil is also the Global CFO for the Consulting, BPM, Products and Platform businesses and Global Head for Infrastructure, Facilities and Physical Security. Sunil has previously worked with 21st Century Fox (formerly known as News Corporation).
In over 20 years of his professional experience, he has successfully concluded several Advance Pricing Agreements and resolved tax disputes through Mutual Agreement Procedures. In his role as Head of Corporate Accounting, he has full responsibility for the financial accounting function of the Company. In addition, Sunil has anchored process improvement and automation initiatives, several of which have won awards like the Stars of the Industry award for Best Automation in Finance conducted by NewsX / CMO Global. Sunil has been conferred with Best In-house Tax Director in Asia award by International Tax Review (a Euromoney Publication) in 2021 and is also a recipient of the CFO Next 100 award instituted by CFO India. He is a speaker at national and international conferences/forums and is on the editorial panel of the International Tax Review.
Sunil is a qualified Chartered Accountant from the Institute of Chartered Accountants of India and a rank holder. Sunil has also trained at the National Defence Academy, Pune, for a brief period prior to his qualification as a Chartered Accountant.
---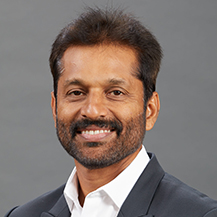 Shaji Mathew
Shaji Mathew is the Group Head of Human Resource Development at Infosys. In this role, he is responsible for envisioning the roadmap for HR, driving strategy, and implementing operational priorities aligned with the overall organizational mandate.
Shaji has over 30 years of experience in Infosys. Prior to his current role, he was Infosys' global head of delivery for Financial Services, Insurance, Healthcare and Life Sciences. Over the years, he has played various leadership roles in delivery, as also in managing client relationships, commercials, solutioning, and people management across the US, Europe, and APAC. He has also been actively steering the company's efforts to create a more inclusive workforce as the Chair for Diversity, Equity, and Inclusion (DEI) in India.
Shaji is a rank holder from National Institute of Technology, Calicut and has completed a Global Leadership Program from Stanford University Graduate School of Business. He has served as the Chairman of Confederation of Indian Industry (CII) at the zonal level.