Healthcare
Access to primary healthcare, awareness of basic hygiene, and treatment of underprivileged patients beg attention. The Infosys Foundation advances healthcare by augmenting existing healthcare infrastructure. Since its inception in 1996, the Infosys Foundation has constructed hospital wards, built dharmashalas (rest houses), and provided medical equipment to various hospitals across India. The Foundation has also donated medicines in addition to organizing health camps in rural India. The Infosys Foundation has donated more than INR 50 crore to expand the capacity of hospitals across India and is involved in several healthcare programs.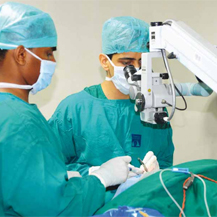 Vision for a blind-free India
The Foundation's association with Sankara Netralaya aims to provide financial aid to the economically weaker sections of society. Apart from converting Lady Willingdon Hospital into the Jaslok Community Ophthalmic Centre and purchasing Heidelberg Retinal Angiogram II to diagnose retinal problems in diabetic patients, the Foundation has initiated the building of a new community hospital. This hospital aims to offer 12,000 free surgeries every year and will conduct training programs in a variety of fields associated with ophthalmology.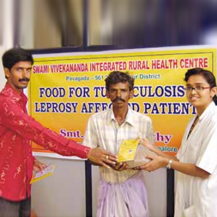 Caring and comforting the ill
Joining hands with the Swami Vivekananda Integrated Rural Health Centre (SVIRHC), the Foundation has contributed immensely towards the eradication of leprosy. Over the years, SVIRHC has treated 3,747 leprosy patients, 11,083 tuberculosis patients, and conducted free eye operations for 16,869 patients. The Foundation has also funded the BMCDT Bone Marrow Registry, Bengaluru, to establish a global bone marrow donor registry in India.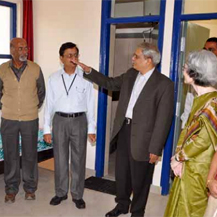 Personalized treatment for psychiatric and neurological problems
The National Institute of Mental Health and Neuro Sciences (NIMHANS) is an innovative institution offering comprehensive care service for patients suffering from psychiatric and neurological problems. At every step, Infosys Foundation has offered financial assistance, paving the way for high quality and affordable healthcare for patients who require it the most.
Contributed funds to IIT Bombay for cancer research
Granted a corpus fund to the Public Health Foundation of India, New Delhi. The fund will be used to strengthen education, research, training, technology development, public communications, and practice in the area of public health in India
Granted funds to the Medical Research Foundation, Chennai for the construction of new building to serve as a community center for performing free cataract surgeries on the poor
Granted funds to the Cancer Institute (WIA), Chennai towards the setting up of a cancer registry and screening project – the HPV vaccination program
Granted a corpus fund to the Institute of Bioinformatics and Applied Biotechnology, to set up an Infosys Chair and for research in new drug target discovery, and drugs targeting parasitical infections and cancer
Granted funds to the Schizophrenia Research Foundation (I), Chennai, towards establishing a dementia care and resource center and for promoting positive mental health in schools and colleges
Granted a corpus fund to the Vittala International Institute of Ophthalmology, Bengaluru. The interest from the fund is being used to provide eye care and related surgeries for the poor
Funded the BMCDT Bone Marrow Registry, Bengaluru to establish a global bone marrow donor registry in India to help patients of South Eastern origin
Granted a corpus fund to the Bengaluru Kidney Foundation. The interest from the fund is being used for providing dialysis to the poor
Granted a fund to the Bengaluru Hospice Trust – Karunashraya. The interest from the fund is used to provide free palliative care to patients with life limiting illnesses
Granted funds to the Sangini Mahila Sewa Cooperative Society, Mumbai for covering medical expenses of sex workers
Provided medicines to aged and poor patients suffering from cancer, leprosy, defects of the heart / kidney, mental illnesses, and other major disorders. Donated to organizations such as Chitta Sanjeevini Charitable Trust to help distribute mental illness medicines to the poor in rural areas. Provided food for leprosy, tuberculosis, HIV-positive, and blind patients in Karnataka
Constructed a dharmashala at Kidwai Memorial Institute of Oncology in Bangalore
Donated ambulances to medical centers and hospitals in Kanchipuram, Tamil Nadu; Gadag, B.R. Hills, and Dakshina
Sponsored the purchase of a new CT scan machine, for the Ramakrishna Mission Hospital, Itanagar, Arunachal Pradesh
Donated high-tech surgical equipment to hospitals in Mysore, Bijapur, Bellary, Bangalore, and Hubli in Karnataka, and air conditioners to the Burn Ward, at Victoria Hospital, Bangalore. Purchased incubators, air conditioning units, neonatal resuscitation equipment, and refrigerators for Bowring Hospital, Bangalore
Donated fluorescein angiography equipment to Shree Sharada Devi Eye Hospital, Pavagada, Karnataka
Helped cancer patients by sponsoring the Mobile Clinic for cancer detection in rural areas through HCG Foundation