Education
Education offers the youth a foundation to achieve their potential. However, millions of children drop out of schools for financial reasons. The Infosys Foundation promotes primary education among underprivileged children through global partnerships.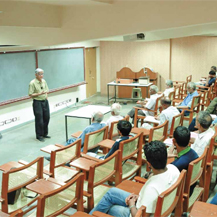 Inspiring and mentoring upcoming scientists and mathematicians
With the objective of encouraging students to pursue further studies and research across disciplines, especially in mathematics and science, Infosys Foundation has partnered with Chennai Mathematical Institute (CMI). The grants from the Foundation have enabled the institution to enhance its infrastructure along with certain basic necessities for all students.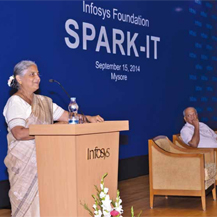 Providing a boost to engineering students
Infosys Foundation started the Spark-IT program in September 2014. Specifically for engineering students, the three-month course aimed to provide technology and communication skills training to those who consistently performed well academically.
The program received a tremendous response and attracted applicants from all over the country. Infosys Foundation also tied up with a number of institutes in Delhi, Hyderabad, and Pune in order to gain a wider reach.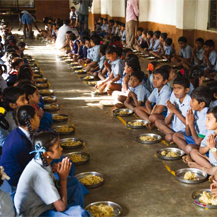 Eliminating hunger in the classrooms
One of the most effective ways to curb dropout rates in schools is by feeding its students so that they do not have to earn to pay for their meals. Nestled in the Bannerghatta Forest area of Bengaluru, Sri Ramakrishna Vidya Kendra is on a mission to end classroom hunger among children belonging to the below poverty line (BPL) segment as well as the local tribal community.
Granted a corpus fund to the Indian Institute of Science (IISC), Bengaluru for instituting Chair professorships
Granted a corpus fund to the International Institute of Information Technology (IIIT), Bengaluru for setting up two chair professorships and a Special Training Program for 100 students
Donated money to schools such as Shivaganga Grama Vikasa Parishad for maintenance
Granted a corpus towards a drinking water project, Jaldhara, in Jaipur, along with funds for health checkups
Instituted a corpus fund whose interest will be used for the midday meal schemes in several schools in Salem, Kadapa, Mylapore, and Chapra
Granted a corpus fund to the Bangalore Association for Science Education, which will be used for the welfare of its employees
Granted a corpus fund to the Ushas Centre for Exceptional Children, Hubballi. The interest accrued will be used to provide physiotherapy for special children and increase the salary of the teachers at the center
Granted a corpus to the Tata Institute of Fundamental Research, Mumbai, for the 'Infosys Award' which carries cash awards for the winners of the Science Olympiads
Granted funds to Akanksha, the employee – led CSR initiative of the Bhubaneswar Development Center. The funds will be used to manage the scholarship program called the Pratibha Poshak for needy students
Granted a corpus fund to the Karnataka Sanskrit University, Bengaluru.
Contributed to trusts such as Public Concern For Governance Trust to help promote good governance in school children
Contributed towards the Akshaya Patra Foundation midday meal program to cover capital expenses for its kitchen in Hyderabad
Contributed towards the upliftment of rural schools to buy computers and help children learn soft skills
Contributed towards school / corpus funds, school furniture, equipment, and so on. Renovated Gandhinagar, Kottara St. Peter's School, and Kapikad Zilla Panchayat schools in Dakshina Kannada, Karnataka. Constructed buildings at Konappana Agrahara, Bangalore, and donated money to Isha Education for construction of classrooms at Cuddalore Rural School and Isha School at Dharmapuri in Tamil Nadu
Helped Bangalore Association for Science towards the development and maintenance of the Jawaharlal Nehru Planetarium, including funding of the sky theater program
Constructed a science center at a rural school in the Kolar district of Karnataka – a one-of-its-kind center in the entire district
Under the Library for Every Rural School project, established more than 60,000 school libraries across Karnataka. More than 50,000 sets of books were donated in Karnataka, Andhra Pradesh, Tamil Nadu, and Orissa
Supplied books and educational materials to Door Step, a mobile school, which provides free education to under-privileged children and constructed class rooms through Sparsh, Pune
Partnered with Tata Institute of Social Sciences to build a hostel for students at its Mumbai campus
Contributed to new self-employment courses at post-graduation and post-matriculation levels at the Nrupathunga Educational Institute, Hyderabad