Arts and Culture
Ancient art forms can be preserved and passed down from generation to generation by showcasing the skills of artists. The Infosys Foundation promotes traditional art, dance and craft. The Foundation identifies underprivileged artists who don't have access to contacts or help. These include writers, painters, poets, and musicians from different walks of life. The Foundation assists them on a need basis by offering financial assistance, promoting their art, or helping them receive the much-deserved recognition.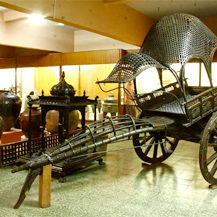 Preserving the past for the future
Infosys Foundation has been a major partner of Raja Dinkar Kelkar Museum with the objective of building a 'Museum City' at par with international standards. Currently, the partnership has been successful in upgrading the conventional style of museum maintenance by digitizing its collections. The Foundation has also carried out special measures for the betterment of the employees by increasing their salaries and benefits.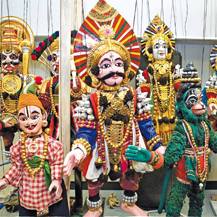 Pumping life into the ailing art forms
Established in 1995, the Uppinakudru Sri Devanna Padmanabha Kamath Memorial Yakshagana Gombeyata Trust is a well-known association, which provides a platform for artists of the Uppinakudru Yakshagana puppetry group to pursue their interests and ensure that this unique art form is preserved. The Foundation has also enabled them to set up a puppetry academy.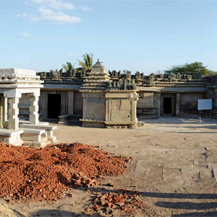 A holistic approach towards the maintenance of monuments
Monuments, a testimonial to our glorious past, have been slowly and steadily fading and deteriorating. With a view to help counter this trend, Infosys Foundation has been proactively taking measures to restore the Someshwara Archaeological Complex and 14 other heritage structures.
Increased the corpus fund for sponsoring various activities at different branches of Bharatiya Vidya Bhavan - Trichy, Agartala, Bengaluru, and Kolkata
Donated to the Corpus fund of the Sanket Trust, Ranga Shankara, Bengaluru, for the management and sponsorship of its theater activities
Provided a grant to the Gokhale Institute of Public Affairs, Bengaluru, for documentation of the works of the ancient Kannada poet, Kumarayasa, and introducing them to the next generation
Provided a grant to the Sree Ramaseva Mandali, Bengaluru for organizing classic music festivals
Granted funds to Manohar Grantha Mala, Dharwad, for publishing and reprinting Galaganath's complete works in Kannada, spanning six volumes
Contributed towards creation of a corpus fund for instituting an award in the memory of Ustad Bale Saheb by the Ustad Bale Khan Memorial Trust, Dharwad
Organized cultural programs, accommodated travel and remunerative expenses to promote artists in rural areas of Karnataka and Andhra Pradesh
Supported Sneham Social Welfare Foundation, Chennai , for conducting cultural programs that promote arts, especially the local arts, in Tamil Nadu
Sponsored the screening of the play , Maya Bazaar, at Ranga Shankara by Surabhi –Sri Venkateshwara Natya Mandali, Hyderabad
Published a book called 'Embroidering Futures' in association with India Foundation for the Arts. The book traces the roots, traditions, and transition of 'Kantha' from a simple art form to a highly valued one