Rural Development
The well-being of people living in rural areas ensures sustainable development. The Infosys Foundation works with local administration to achieve community development goals. We construct roads, provide drainage systems and electricity, and rehabilitate flood-affected victims in rural areas. The Foundation has donated more than INR 40 crore for rural development and livelihood projects such as awareness campaigns on hygiene, sanitation, vocational training and entrepreneurship.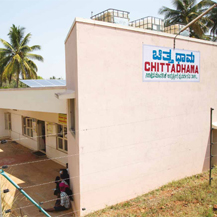 Bringing to light: Mental healthcare
A shortage of doctors and the rising cost of medication have left many mentally ill patients deprived of the required treatment. The Chittaprakasha Charitable Trust provides residential rehabilitation centers for the mentally affected who are homeless. Infosys Foundation has helped in the construction of a 7,500 sq. ft. building at Chittadhama.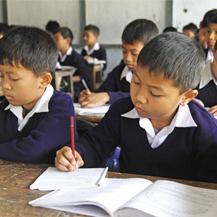 Helping the ones who deserve it the most
The poorest part of a country is often the most neglected. The Ramakrishna Mission has set up a school in Aalo, an inaccessible and backward tribal area in the West Siang District of Arunachal Pradesh. The center is more than a brick-and-mortar school and is a kind of umbrella organization that includes 16 non-formal schools, coaching centers, a dairy, a bakery unit, a small farming facility, a dispensary, and a printing press. It also provides transportation for students to and from their villages.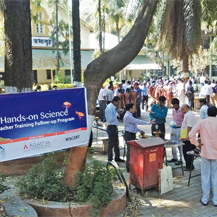 Higher standards of education for the underprivileged
Agastya Foundation, the brainchild of a group of scientists, educators, and executives, instils creativity and encourages the imbibing of scientific knowledge among its students. Agastya and Infosys Foundation have together created higher standards of education for the country's underprivileged by providing them with training workshops, mobile labs, and a hands-on educational methodology.
Offered compensation to families whose breadwinners served in the Indian Armed Forces and laid down their lives for the country
Contributed to the Indian Council for Research on International Economic Relations towards their corpus fund
Donated towards the midday meal program of the Akshaya Patra Foundation, Bangalore, for poor children in North Karnataka
Granted funds for the Society for Education, Action, and Research in Community Health (SEARCH)  in Maharashtra for imparting sexual and reproductive health education, and creating awareness
Granted a corpus fund to the Shree Ramakrishna Ashrama, Odisha, for the development of efforts of the tribal people in Kahanandi district
Granted a corpus fund to the Nehru Seva Sangha, Banpur, Odisha. The interest will be used for expansion of welfare activities of the children
Made donations for library books to schools such as the Government High School at Gudalanayanapalli, Kuppam
Provided financial assistance to the People's Welfare Society, Ankola, Karnataka, towards the maintenance of a hostel for students belonging to scheduled castes and scheduled tribes
Contributed towards the maintenance of SC / ST tribal student's hostels
Completed the construction of 10,000 toilets in the backward districts of Karnataka
Took up relief work at cyclone-devastated areas of Orissa, and drought-hit areas of Andhra Pradesh
Donated sewing machines to women in rural areas of Andhra Pradesh and Karnataka
Took up relief work at cyclone-devastated areas of Orissa, and drought-hit areas of Andhra Pradesh. Constructed 3,000 homes for flood victims of Belgaum, Gulbarga, Dharwad, Gadag, Bagalkot, Bijapur, and Karwar in Karnataka
Donated water purifier-cum-cooler, solar water heaters, water tank, and steel cupboards to the Gurukula  Anathashram, Chunchanakatte, Mysore
Constructed bore wells at the MM Nagar fire station in Kanchipuram district, Tamil Nadu, through Sneham, the Infosys Chennai CSR wing