Destitute Care
Support and vocational training help the destitute to live with dignity and earn a livelihood. The Infosys Foundation partners with non-government organizations (NGOs) to support destitute children and women. The Foundation supports programs of NGOs in rural areas across India: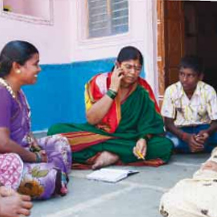 Dignity and support for devadasi community
One of the key objectives of Infosys Foundation is to eliminate the exploitation of the devadasi community and ensure their rehabilitation by providing them with more opportunities. To enable a smooth transition into a new life, the Foundation has partnered with the Nava Jeevana Mahila Okkoota (NJMO), wherein devadasi children are offered healthcare facilities and schooling.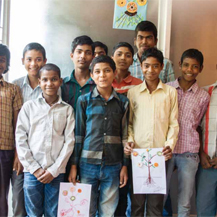 Directing the disturbed minds
The Society for Assistance to Children in Difficult Situations (SATHI) provides a helping hand to runaway/street children. Infosys Foundation has been a major supporter of the organization, providing financial and other support. With its shelters in all major cities of the country, SATHI has been successful in rehabilitating 47,000 children and teenagers.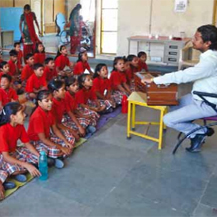 Stepping stones for VISHWAS
Based in Gurgaon, Vision for Health, Welfare and Special Needs (VISHWAS) caters to the disadvantaged and the marginalized communities. VISHWAS and Infosys Foundation have collaborated to provide elementary education for 300 children, including those with disabilities. The partnership offers support under community initiatives in areas such as education, health, and early childhood care.
Donated money to Sri Ramakrishna Sevashrama, Pavagada, Karnataka, towards the supply of fodder for livestock in drought-hit areas, buying ophthalmic equipment and musical instruments for its school for the blind
Granted funds for the construction of a hostel for destitute girls, to the Parivaar Education Society, Kolkata. Additional funds were provided for the midday meals for 100 destitute children
Funded the renovation of two old-age homes, run by the Ramakrishna Math, Belur
Granted funds to Ramakrishna Mission, Jammu, towards the repair of an operation theater, free distribution of medicines to the poor, and establishment of a library
Granted a corpus fund to Shaktidhama, Mysore, for feeding abandoned and destitute women
Granted funds to the Nirmalya Trust, Pune, for the construction of a residential-cum-therapy center in Parner Taluka, Panoli
Granted funds to the Cochlea Pune for Hearing and Speech to conduct implant surgeries on the underprivileged children
Built a hostel for tribal girls in the border area of Kutch and Pakistan
Constructed the Shakthidhama Destitute Center for Women in Mysore
Assisted orphan children by covering all school expenses through the Hindu Seva Pratishtana Nele, Bangalore
Construction of a tiger enclosure, digging of multiple bore wells, and the construction of overhead water tanks at Bannerghatta National Park
Implemented the Jnanavikasa program